2017: Thanks for the lessons.
2018: Okay, let's do this!
Like most people, the year 2017 could be an entire book or possibly a movie for some. The way that we were tested made us so grateful to see another calendar year. I'm grateful for the interruptions that stretched me in a deeper relationship with God. For me personally, I just wanted to share some major keys from my lessons as we all elevate into a successful new calendar year.
Bridging the Gap requires people, places, and things. I didn't allow offenses to build fences for me. We all need someone and someone needs us. Even the ugly places in 2017 had beautiful lessons after my tears. I knew it was a teachable lesson somewhere along the lines. I strongly believe that God has us at the right places at the right time. It may not appear that it is in our ideal timeframe, but if you know like I know, in the latter it will all make sense.
Boundaries are necessary. Know your place and other people need to know theirs. Stop entertaining foolishness in your DMs or trolls on the internet. It doesn't give you authority to be mean. Some folks may talk to you sideways. God is testing you in everything. Especially on those times when no one is looking. Every invitation isn't an obligation. Say no. It will save your life. Too much pouring out will deplete you. Then you're no good to your family. Give some time to make some time to the necessary. Anyone that can't respect your time doesn't need your time.
When God speaks, surrender and listen! So many instances I would get a revelation. Sometimes, I would proceed. Other times, I wouldn't. Now, I obey lol. You see, warning comes before destruction. That sound is a quiet whisper or sometimes it's a booming voice. However, it's not until God removes the rug from underneath our feet is where we get his attention in real life. When you have his attention like he needs from you, he can reveal things to help you and someone else. You can have people come into your life that can spiritually or naturally see the deficits that you need assistance. God can also use you, (YES YOU!!) to bridge the gap for other people, places, and things. My wealthy place is my secret place. I was able to get humble on my knees. My posture had to change so when I stood up, I could see totally different.
Make God a priority.
When you're able to hear and stop putting God on your "to do" list, he can tell you to leave that guy alone and wait for your husband, apologize to someone that betrayed you (doing that even blew my mind!), leave that writing gig that is not lining up with your actual God assignment, pray for that friend that appears to be ok but isn't, and so on.
No more running into place. Remember that writing gig I mentioned? Yes, it gave me experience with no real direction. The funny thing is, God closed the door the same week I was giving them my walking papers. Stay in line with your voice and your brand. Make sure you're leading people in the right direction. Every good idea is not a God idea.
Trust the process. Your process is yours. Mine is mine. We're not supposed to have it all figured out. It's leading you and I somewhere. However, we all have an obligation to someone. That someone can be blessed with what you have to offer. It may not always be words. Creatives can get overwhelmed because they feel their gifts have no place. Every gift you have within is something that is needed in your sphere of influence. Whether its, hundreds or thousands, don't get caught up in numbers. Gap fillers come in different ways.
Stop apologizing for who you are. You're not for everyone and that's perfectly fine. Once you get over yourself and what other people think of you, there's a freedom that no one else can take from you. The only way that can happen is if you allow the opinion of others to become a dominating force in your life. When you actually focus on your focus, you will get out of your feelings. Just like a thumbprint, your identity is unique.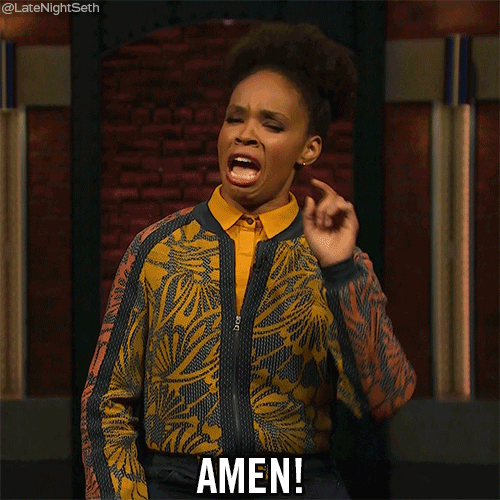 Distractions will come. How focused will you be? Whatever your goals are, know that there are some people, places, and things that come in just to distract you from what you're supposed to do. I like to call them destiny distractions. Stay focused. Utilize your social media in the right way. Your timeline is more important.
Retire the spirit of petty. Everything doesn't always require a clapback. Those destiny distractions are simply interruptions to delay you.
Mindset matters. Get rid of the stinking thinking. It is said that whatever a man thinks in his heart, so shall he be. So umm, no more low level false humility. Bye to excuses. Warriors can't worry. Victorious folks are not cowardly. You gotta believe in you or no one else will.
Authenticity wins. Be true to you. No filter to your truest self for the sake of another's comfortability. Someone will be directed to you. I can't tell you how many times someone has been blessed by my testimony. Not just the part about me being in an abusive relationship. Real talk about overcoming helped several women leave their abusive partners. My encouraging words helped someone have a better day. My prayers filled the gaps for the ones that needed them and myself.
Your circle should be your goldmine. Everyone should be surrounded by great people. Be secure enough to celebrate others. Your circle should inspire you and you should inspire other people. Let's get out of this no new friends, I can't trust anyone mentality. Everyone isn't horrible. I've met some great people in 2017.
Write the vision. Make it plain. No need to overthink anything. Want to write a book but don't know how? It doesn't take two years to write one book. But it does take dedication. Invest in yourself. Make sure you invest in someone that has receipts. (In other words, check their fruit for proven results). I'll tell you what overthinking will do to you: have you stuck because you can't make a decision. You got it. Run your course.
Be patient. Serve others. That will sow great seeds. There's a time for for everything. All great leaders had to serve at some point in life. Honor people. Not because they have a platform or can prophesy a word. Honor people. It will be rewarded in due time.
Your timeline is tailored made. You should never base your life from the highlights of someone else. They paid their dues and you have to do the same. That oil costs. It bothers me when someone says, "I wish I could be like so and so." Be cool with your gifts and what makes you unique.
Be bold. Then be consistent. Travel solo to a conference. Go live on social media. Speak with authority. And don't be afraid of their faces. I've been on tv a couple times (so far). Spoken in front of people several times. At the beginning, I was terrified. As time progressed with experience, it became better. Fear is a punk. Don't fall into that trap. You're royalty and your gifts will bring you in front of great people.
We're all gap fillers. Someone that need to intercede on another. Be the church outside the church. Love people even when it's hard to sometimes. Encourage one another. Share your gift with the world. Someone needs you. Build with people. Reflect on the things that you have to offer and be your BEST self in 2018!
Happy New Year
P.S. After reading, reply #bridgethegap2018 if you're going to do more in 2018!
Gratitude is a great affirmation and devotional book for the new year!  Checkout my books here: bit.ly/mswordsmithwrites
4,400 total views, 1 views today